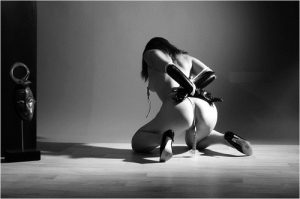 If you really want to spice things up in the bedroom, then there's only one way to take things to the next level: BDSM products!
With just a little light bondage you can create an entirely new kind of excitement in the bedroom that will leave you both tingling with excitement and more sensitive to the touch than ever before.
S&M products don't have to be scary looking clamps and vices. For those that just want to dip their toes in the water, there are a ton of fun and kinky toys to try out from whips, to tickling feathers to light restraints.
What's that? You've never been tied up by your partner before? Then this is something you absolutely must try. There's nothing quite so exciting as submitting yourself entirely to the will of your partner – to becoming their willing sex slave and letting them have their wicked way with you. The excitement is second to none and that makes the eventual release all the more rewarding. But of course, you only cum when they're ready!
Want to turn up the dial even further? Then you'll have a great time with our more advanced sex toys. If you're an experienced 'dom' or Shibari expert, then we have sex toys that you've never even dreamed of. We're talking about the kinds of things that will really turn up the heat. The kinds of things that are just a little bit dangerous and a little bit edgy – but while keeping things safe and comfortable for you both in reality.
It's all about walking that fine line in order to get the perfect feeling of excitement and risk, all while keeping yourself relaxed and able to enjoy the experience.
So whether you're looking for fetish clothing, blindfolds, swings, machines or even medical implements… you'll find them here!
Take a look!